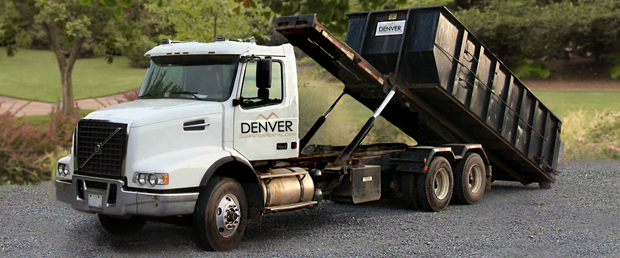 What Do You Want to Know?
Denver Dumpster Rental is one of the top roll off dumpster providers in the region. We've built up a reputation for being the low-cost alternative to many other methods of waste disposal. Our service is based on the convenience of our roll off containers, each of which can be rolled onto any flat pavement.
Our dumpsters can be used by anyone in the Denver area, including general contractors, property owners/managers, homeowners, construction companies, and local businesses. We use a variety of disposal facilities allowing us to haul away a broad range of debris. Common waste types include household trash, construction debris, and heavy materials including concrete.
If you are unfamiliar with the dumpster rental process, you are probably wondering what determines the size of the dumpster you rent. One of the most important factors is the amount of waste that needs to be removed from your work site. Each of our dumpsters is built to accommodate a certain volume of waste, usually measured in cubic yards. Smaller projects, such as cleaning out the attic or the home in general, can usually be accomplished with a 12 or 15 yarder. These are our smaller dumpsters which are shorter than our larger containers, making them great for homes or properties that are short on space.
For other projects, you can always consult with our customer support team to get a recommendation. Our service department is open during the week. You'll be able to get in touch with any of our service representatives. We employ highly experienced service professionals in order to facilitate the smoothest ordering process for you. Each of our reps. Is familiar with the general disposal needs of common projects, including commercial work. So if you are ever at a loss as to which dumpster rentals you need, they can work it out for you. Just give them the details of your project and they'll match them to the appropriately sized dumpster or dumpsters.
If there are any changes you want to make to your order, or you have questions about our service, don't hesitate to ask us! We here at Denver Dumpster Rental look forward to helping out our customers with their disposal problems. After all, that's why we got into the waste disposal business in the first place. We work with individuals and businesses all the time who would otherwise be struggling to find a cost-effective way to remove their waste. But once they work with us they see just how great we are at what we do.
We don't just sell dumpsters to our customers; we provide a full service that aims to keep their trash problems under control. Anytime a customer comes to us asking for a change in their order or for help solving a particular disposal issue, we gladly spend as much time as it takes to set things right.
If you need a dumpster rental in the Denver area, trust Denver Dumpster Rental to get it for you. We're the local disposal company you can count on for making sure your trash is taken care of responsibly.
That's enough about us! Tell us about your waste removal project and get a free price quote!